Source: ORIGINAL ARTICLE https://www.bizcatalyst360.com/cybersecurity-what-keeps-you-up-at-night/
Watch the Cybersecurity Collaborative's Brand Ambassador Chuck Brooks join Scott Schober as they share their thoughts on the scariest cyber threats we face today.
"Each week from his Zero Day Studios™, cybersecurity expert Scott Schober discusses the most terrifying and apocalyptic cyber scenarios including ransomware, breaches, identity theft, IoT device security and more with fellow experts to find out what keeps us up at night. This week, Chuck Brooks offers an expert perspective. Chuck Brooks is Brand Ambassador of the Cybersecurity Collaborative. LinkedIn named Chuck Brooks as one of "The Top 5 Tech People to Follow on LinkedIn" out of their 550 million members. Chuck has served at The Department of Homeland Security as the first Legislative Director of The Science & Technology Directorate. Chuck is an Adjunct Faculty member at Georgetown University in their Applied Intelligence Program and has an MA in International relations from the University of Chicago and a BA in Political Science from DePauw University."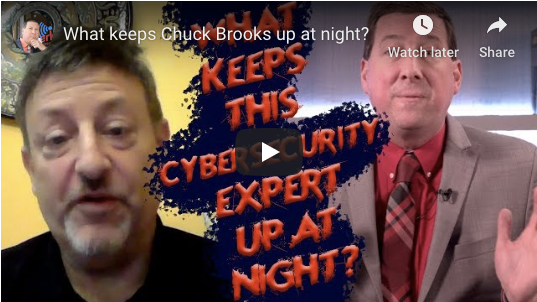 Scott Schober is the President and CEO of Berkeley Varitronics Systems (BVS), a 40-year-old New Jersey-based privately held company and leading provider of advanced, world-class wireless test and security solutions. As an experienced software engineer, Schober also invents BVS' cell phone detection tools, used to enforce a 'no cell phone policy'. These instruments are effectively used around the globe to find contraband cell phones smuggled into correctional as well as secure federal facilities. Mr. Schober is a highly sought after subject expert on the topic of Cybersecurity for media appearances and commentary. He is often seen on ABC News, Bloomberg TV, Al Jazeera America, CBS This Morning News, CCTV America, CNBC, CNN, Fox Business, Fox News, Good Morning America, Inside Edition, MSNBC and many more.